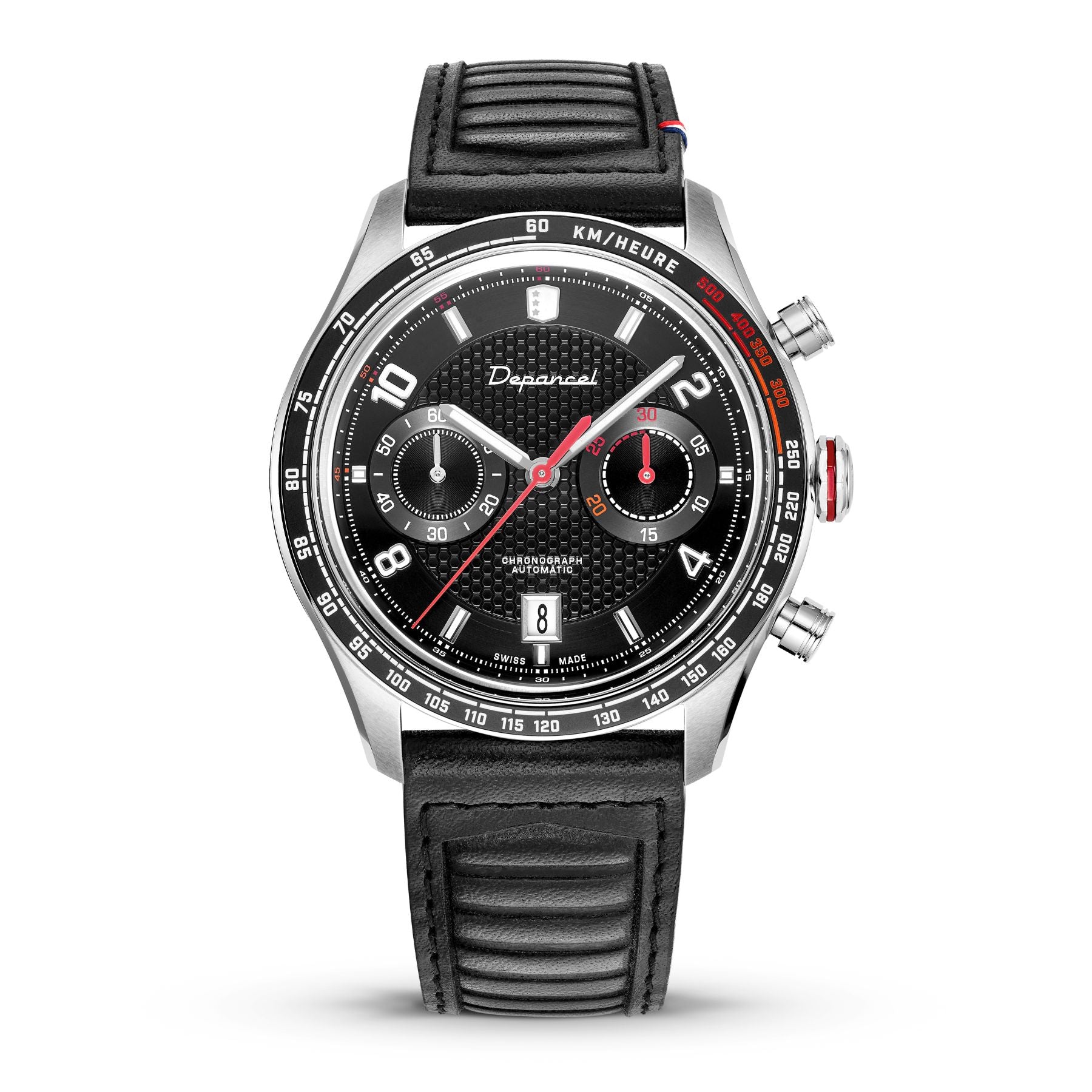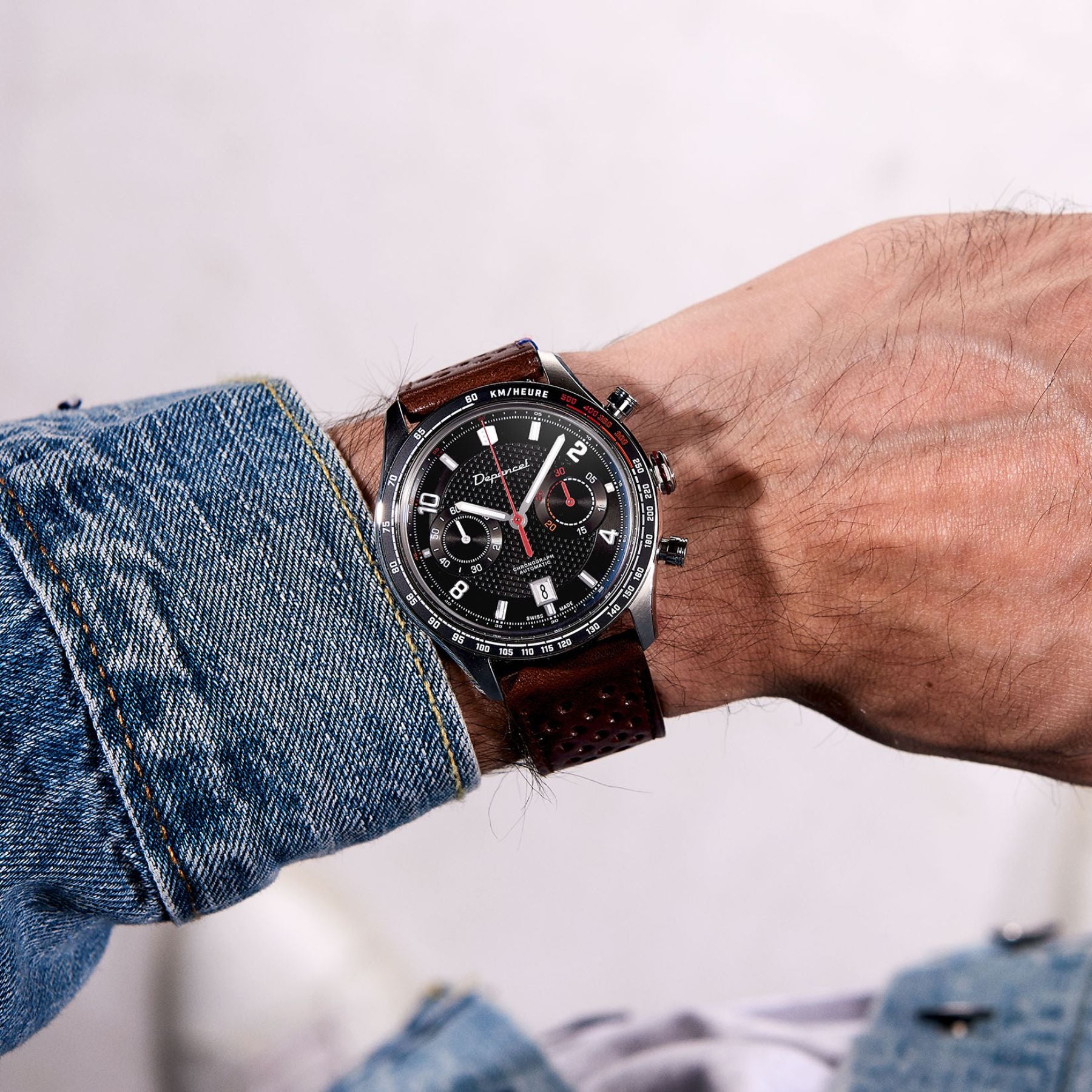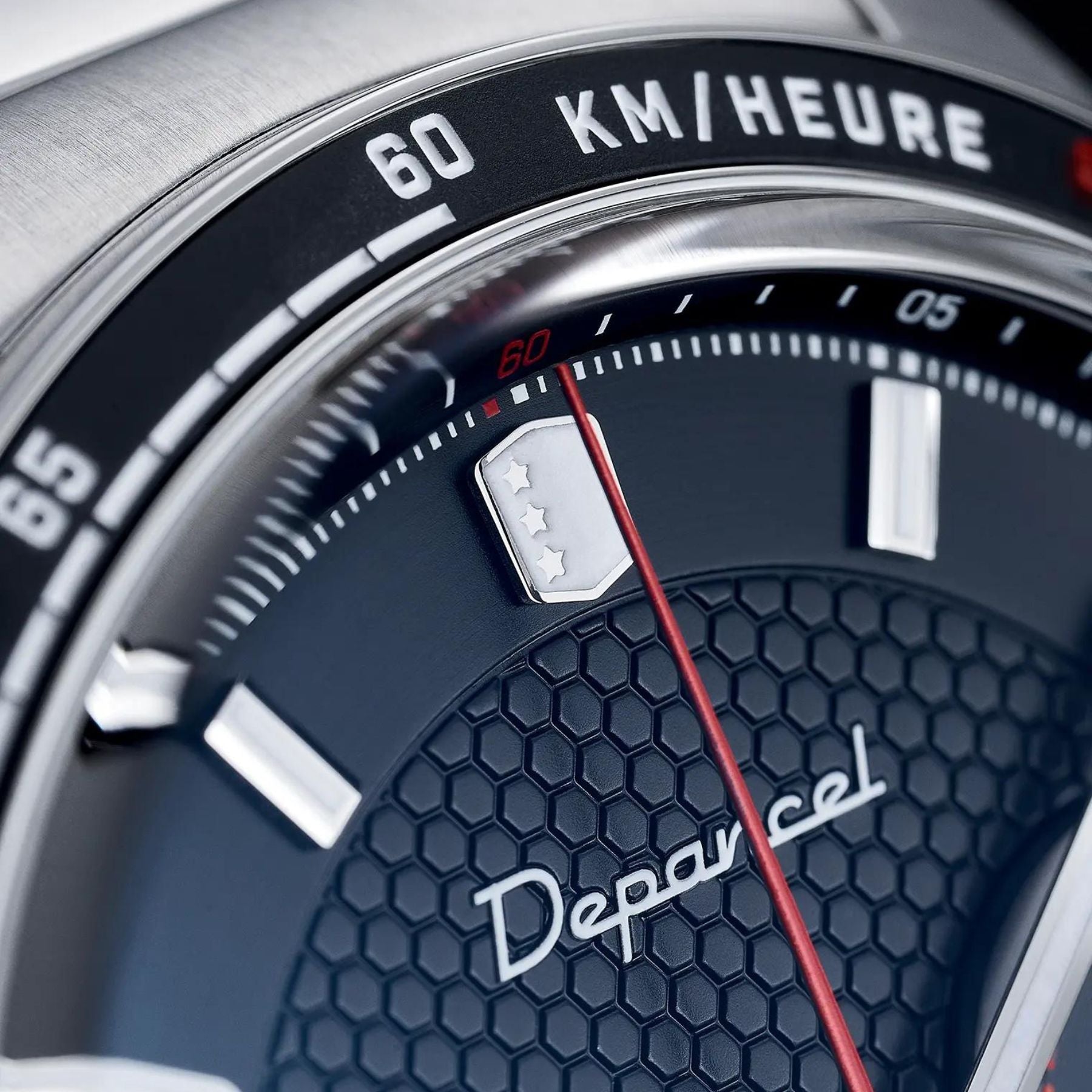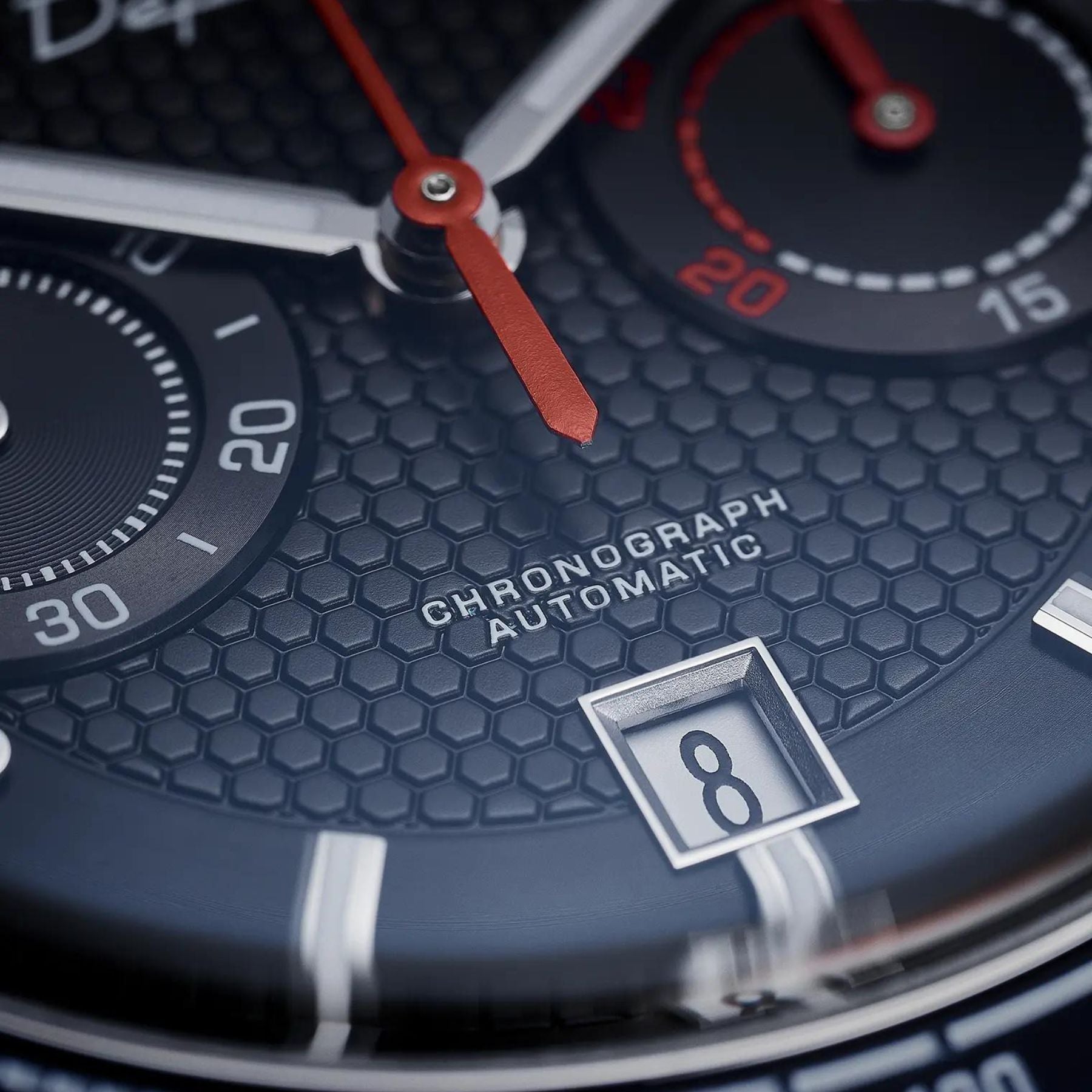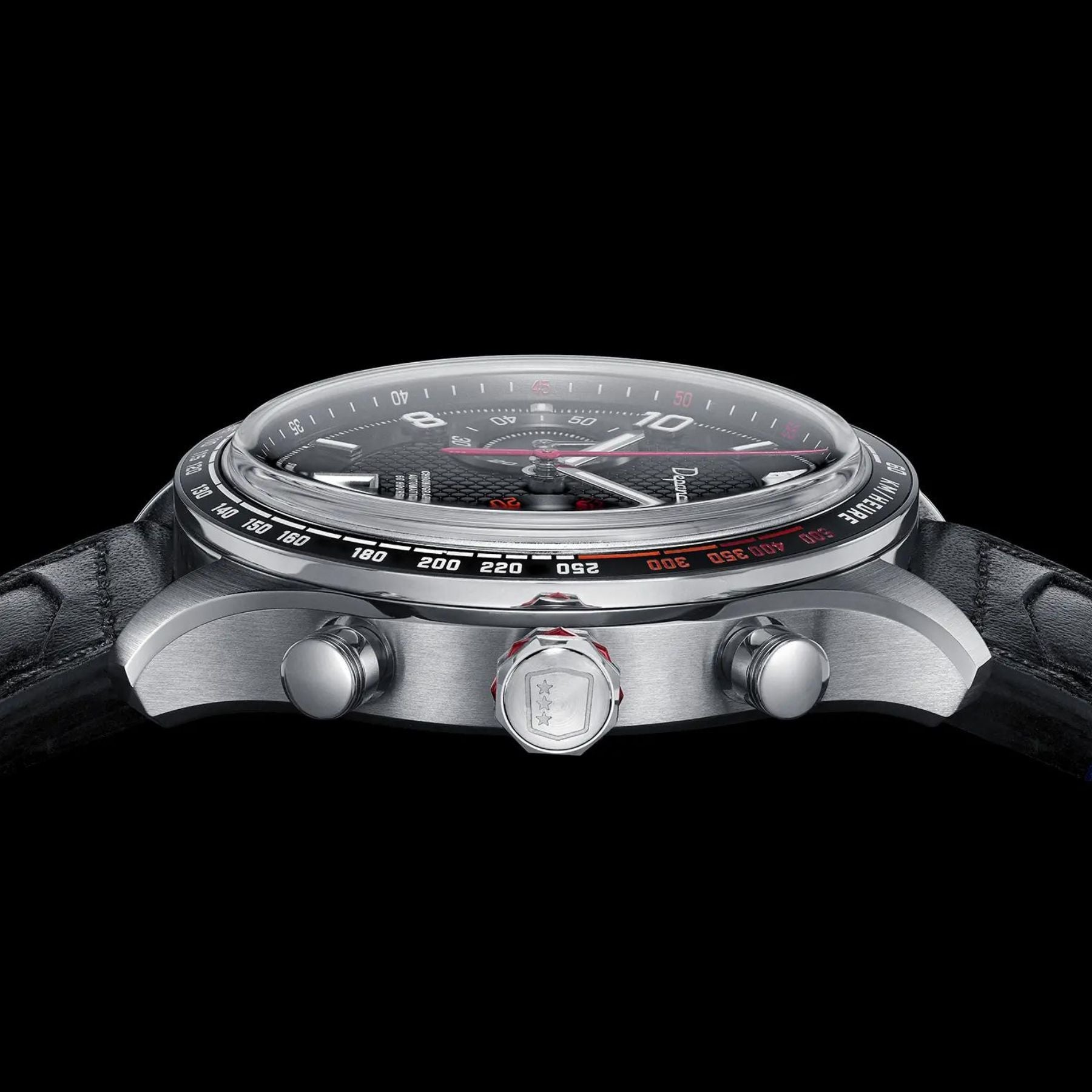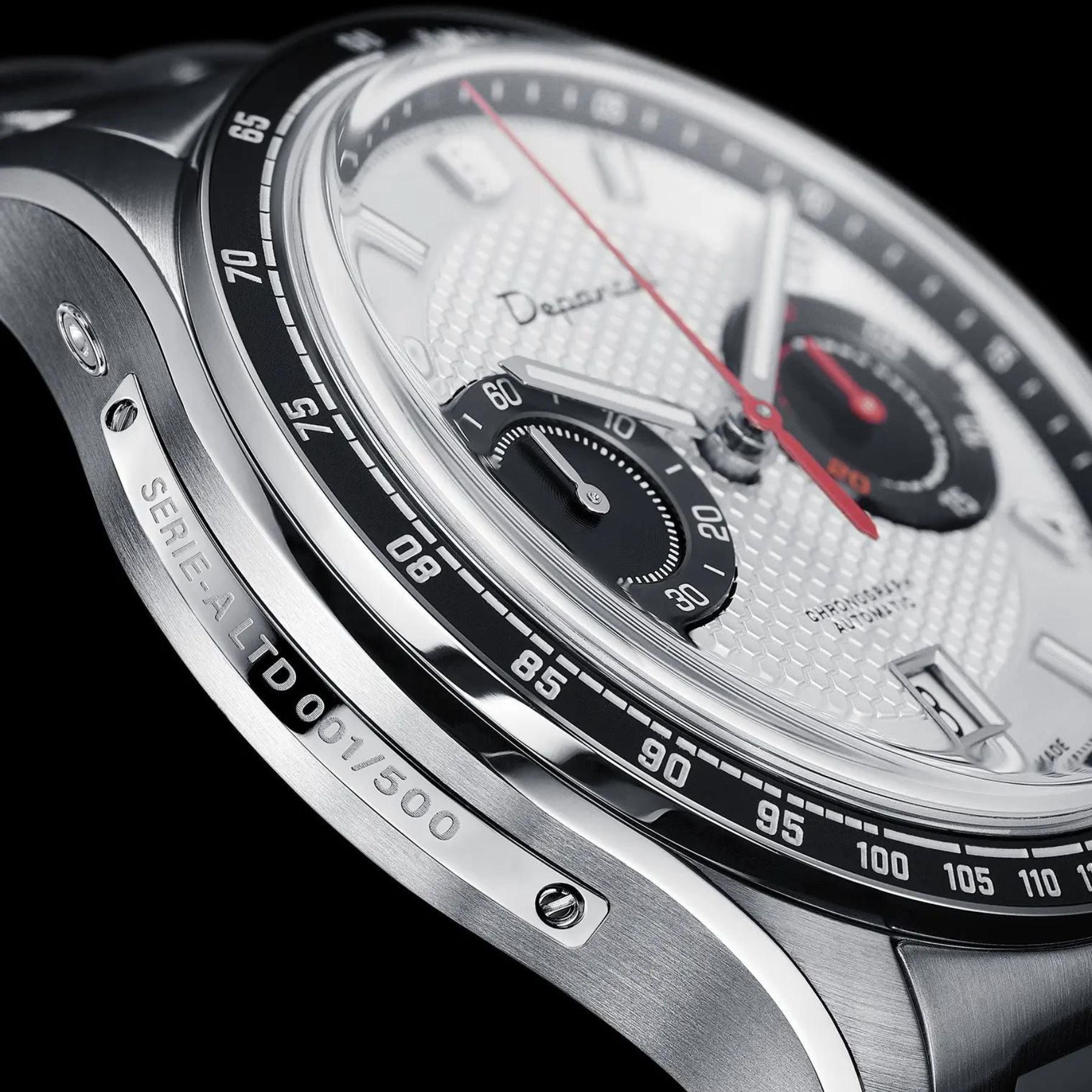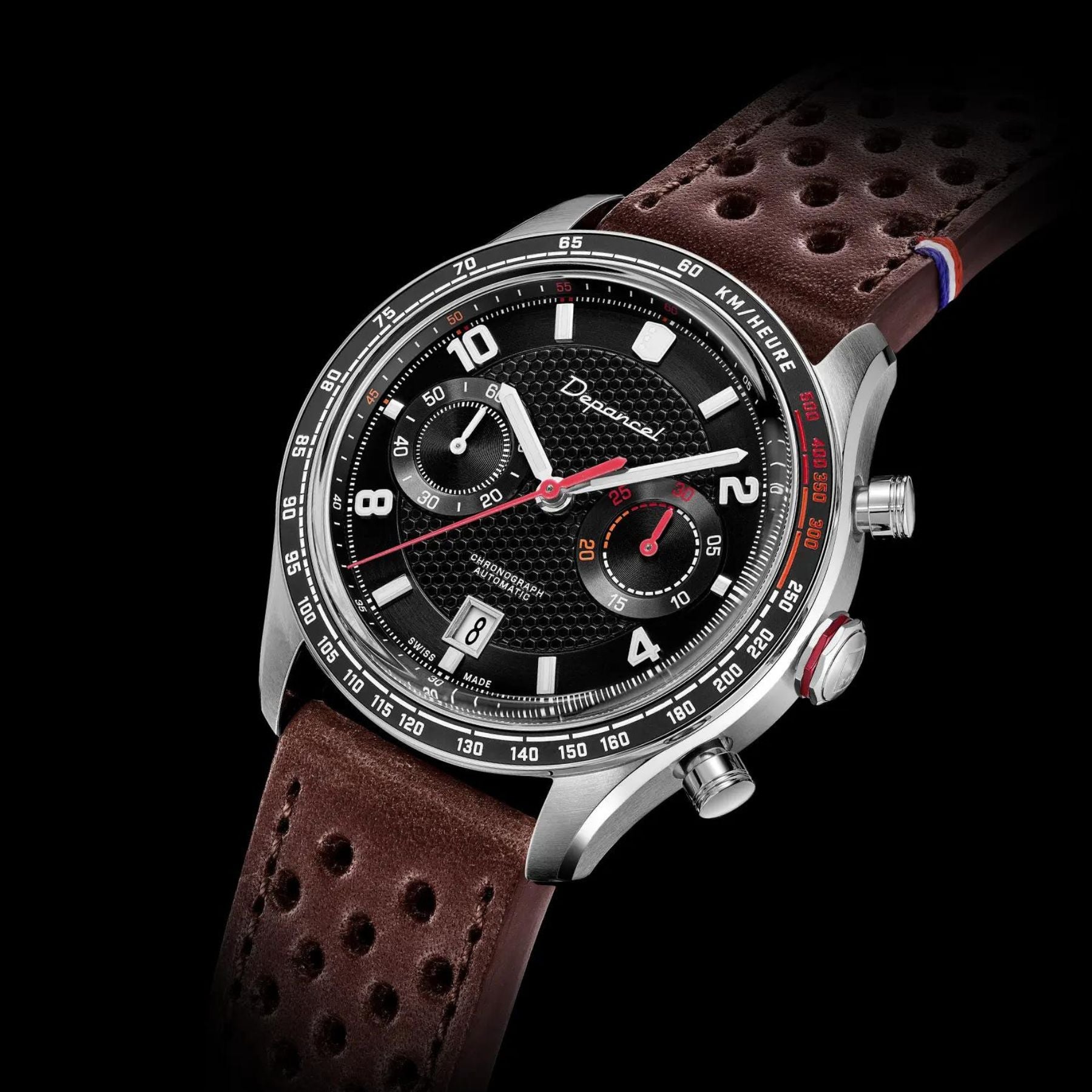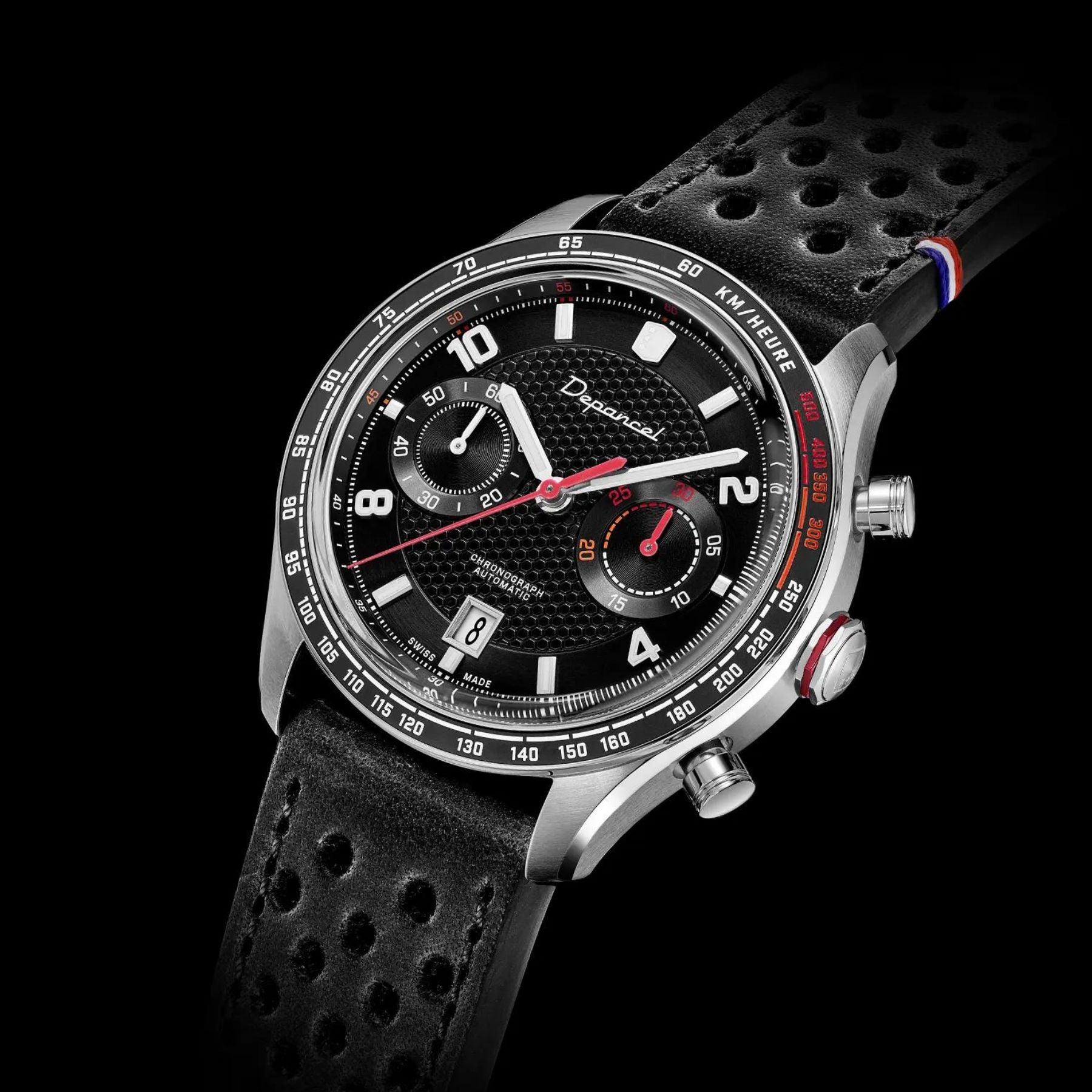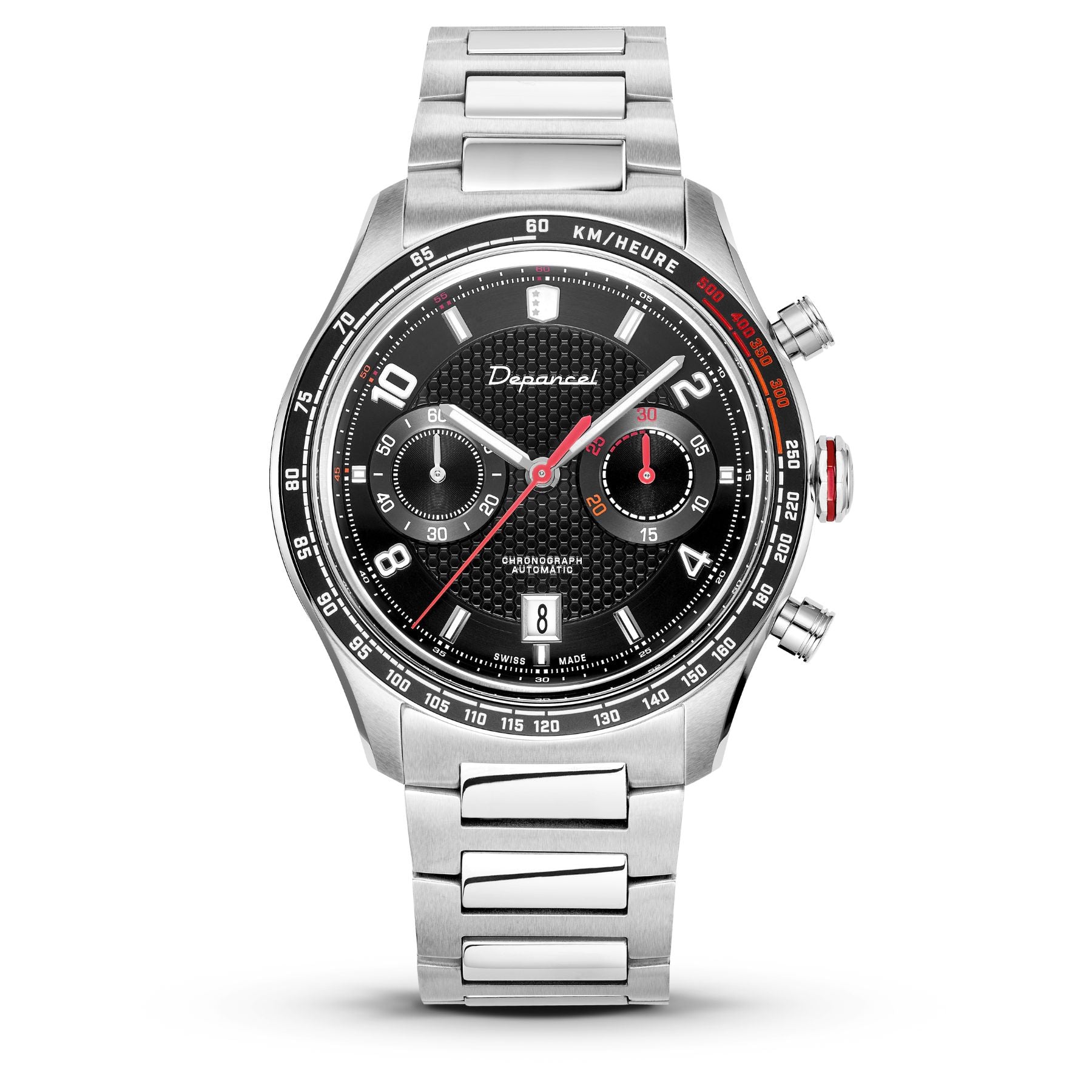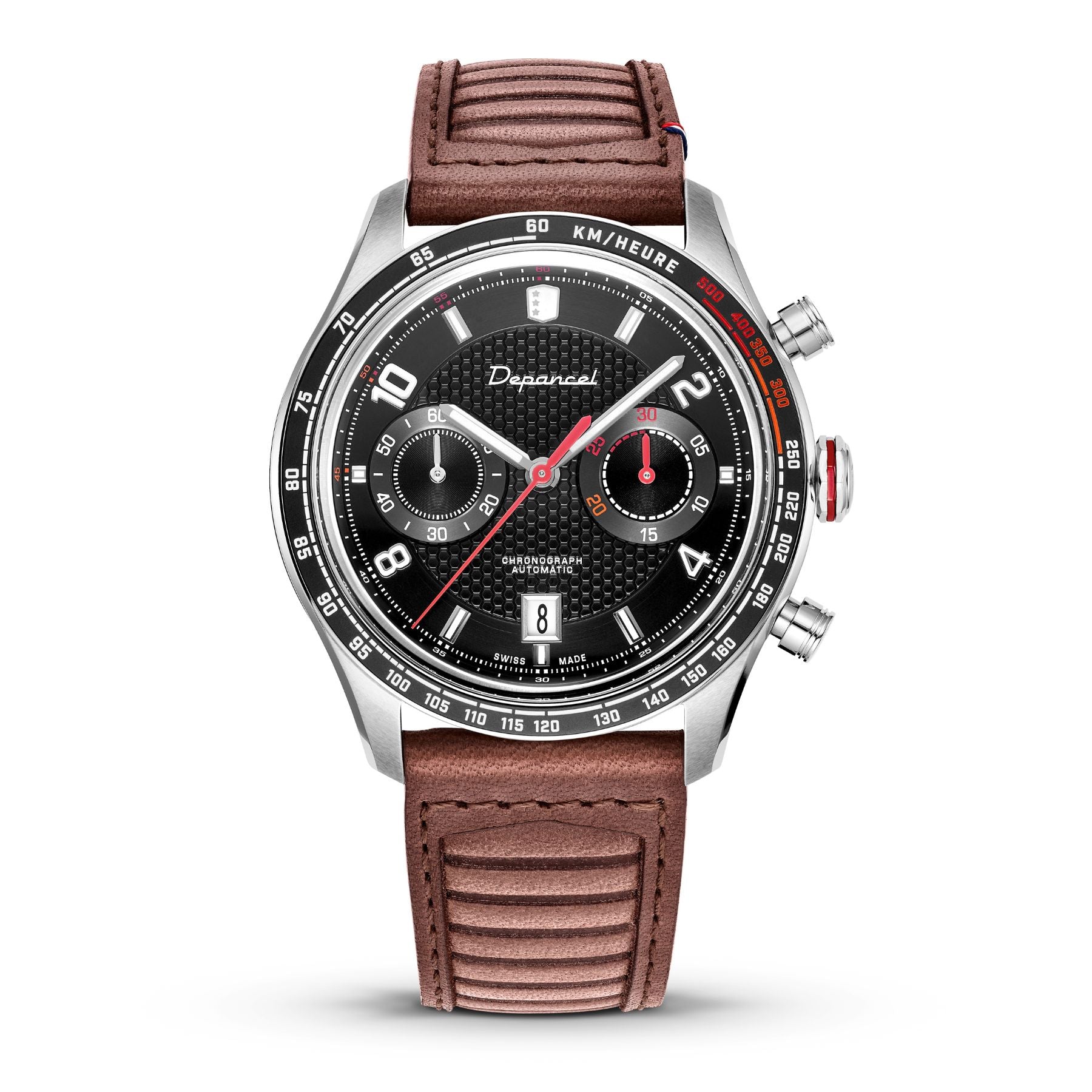 ALLURE - Jet Black
Don't miss the next Allure !
The 500 Allure Limited Edition are sold out. Register for the next model to be launched.
Limited edition of only 500 watches! A contemporary interpretation of the chronograph, the iconic timepiece of motorsports.
Take the elegance and performance of Serie-A Allure everywhere, from everyday life to high-speed adventures.
MOVEMENT
Movement :

Swiss-Made, Automatic winding with decorated weight
Caliber:

Modified ETA 7753 Bi-compax
Power Reserve :

48h
Functions :

H/Min/S, Chronographe, Min/S chrono
Calendar :

Window

Jewels :

27 jewels
CASE
Diameter :

43 mm
Thickness :

15 mm
Entrecorne :

22 mm
Water resistance:

100 m / 10 ATM
Material :

Stainless steel

316 L
Caseback :

transparent mineral

Bezel :

Fixed scratch-resistant ceramic bezel

Crown :

Non screwed
Crystal :

anti-reflective sapphire
STRAP
Embossed leather, perforated racing or metal bracelet with brushed and polished "H" link

Folding clasp (or pin buckle on leather version)

Lug 22mm
For those who live fast
Série-A allure
The chronograph is the reigning complication on the watch market with a history closely linked to auto racing. This naturally led us to create the first Depancel chronograph for you to embody our shared passion for fine mechanics.
As usual, we asked our community to work with us on developing a piece that combines elegance and performance.
The result is a
sporty design
that is
easy to read
in any situation and an
ETA 7753 Swiss caliber known for its reliability and precision
, even at high speeds. This all comes with a lifetime guarantee and an unbeatable value for the money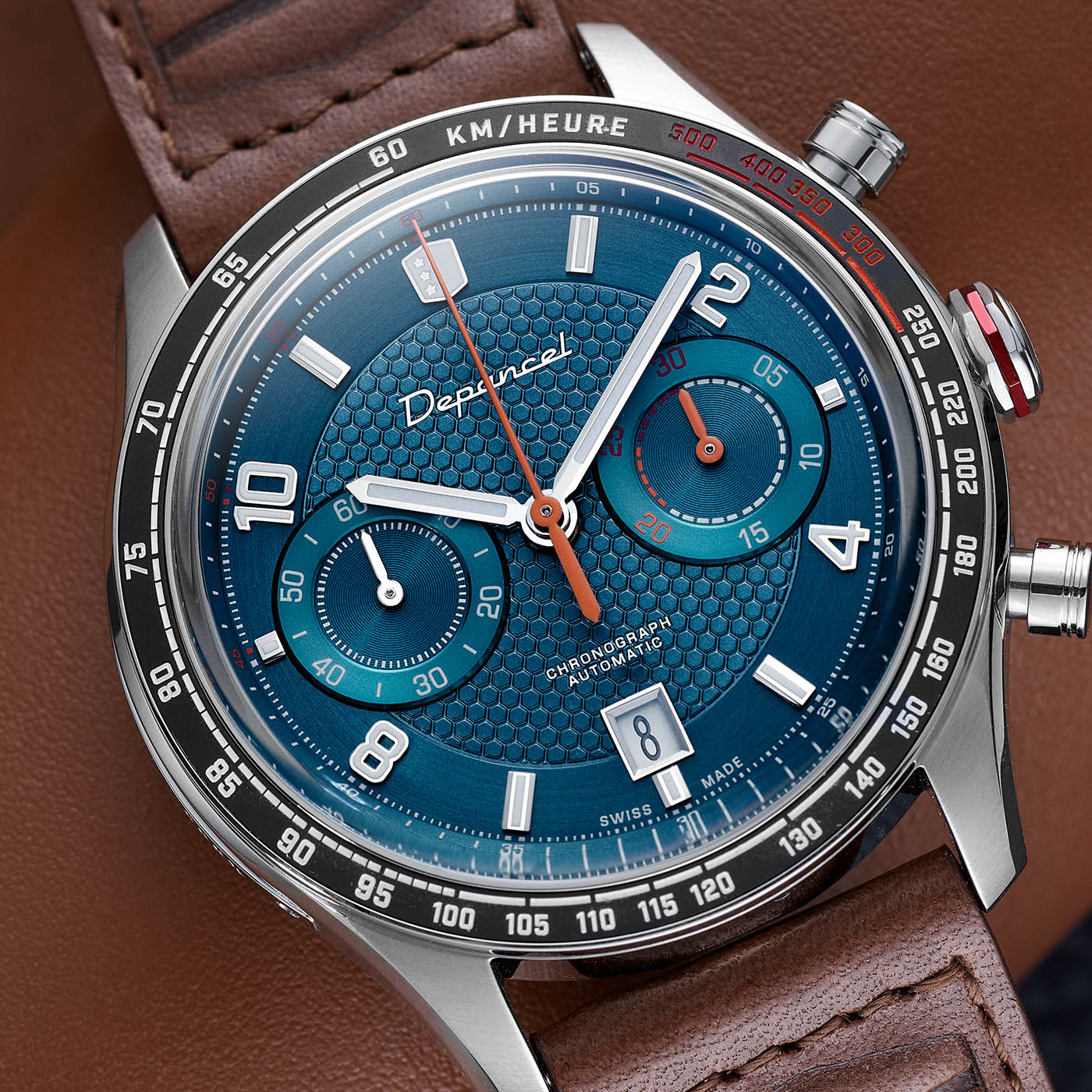 Sporty and easy to read
The Serie-A Allure mirrors the automotive world with its elegant, sporty design. Its textured dial features several finishes: a honeycomb pattern in the center that echoes a radiator grille, a circular satin surface under the hour markers and two small sunray counters. The mushroom push buttons are inspired by motor pistons. The timer measures down to the quarter second. The red and orange accents help you read the chronograph functions at a glance. All these features make this watch easy to read and easy to use in any situation.
Since it comes in three sporty yet timeless colors, you are sure to find the Serie-A Allure made just for you. Which will you choose:
Jet Black, Ion Blue or Storm Grey
?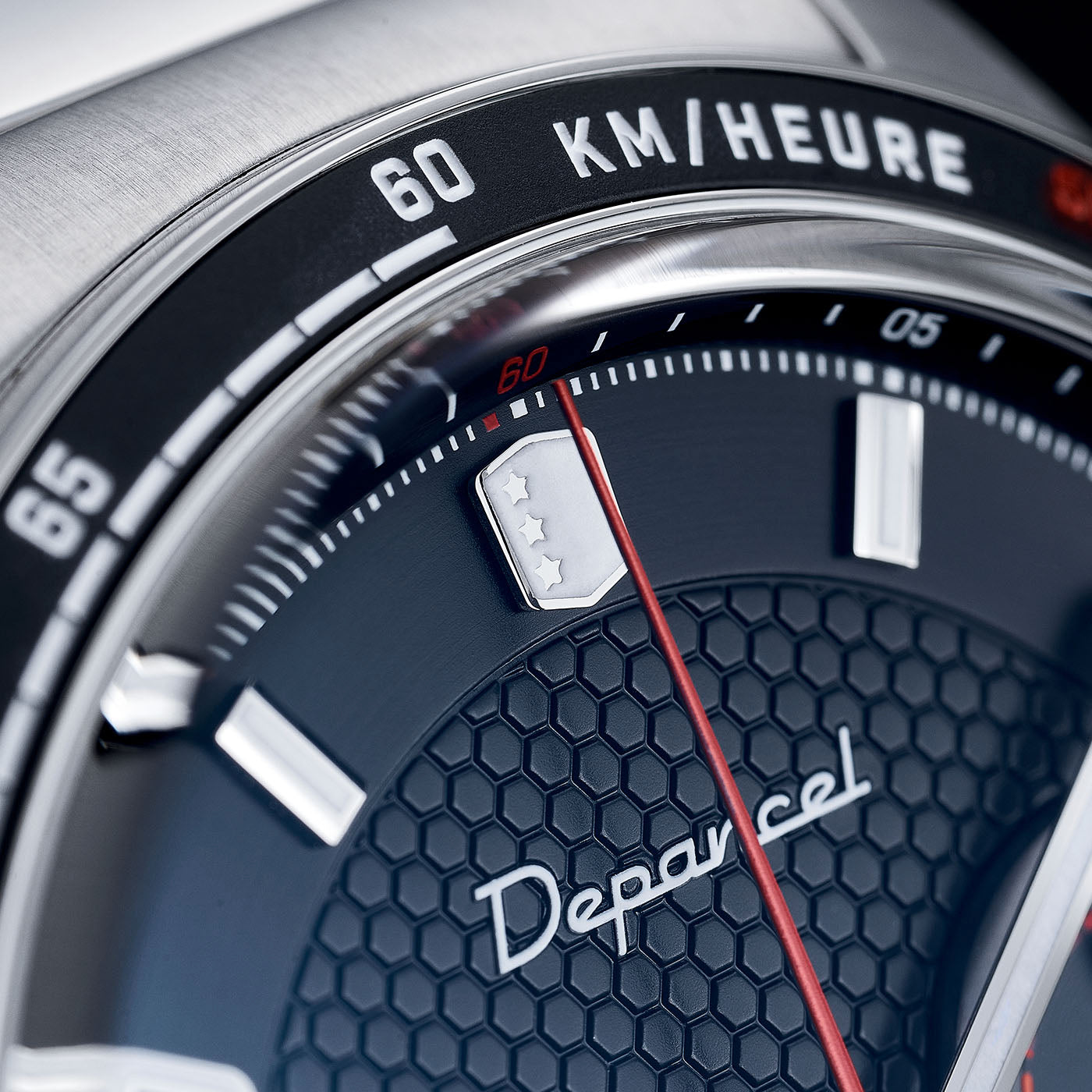 The motorsport complication par excellence
A chronograph is an
essential tool
for car enthusiasts, whether they're amateur or pro drivers. That is why we designed the Serie-A Allure to be
used everywhere, all the time
! The
ceramic bezel with a tachymeter
enables you to
precisely measure your speed, no matter how fast you're going
.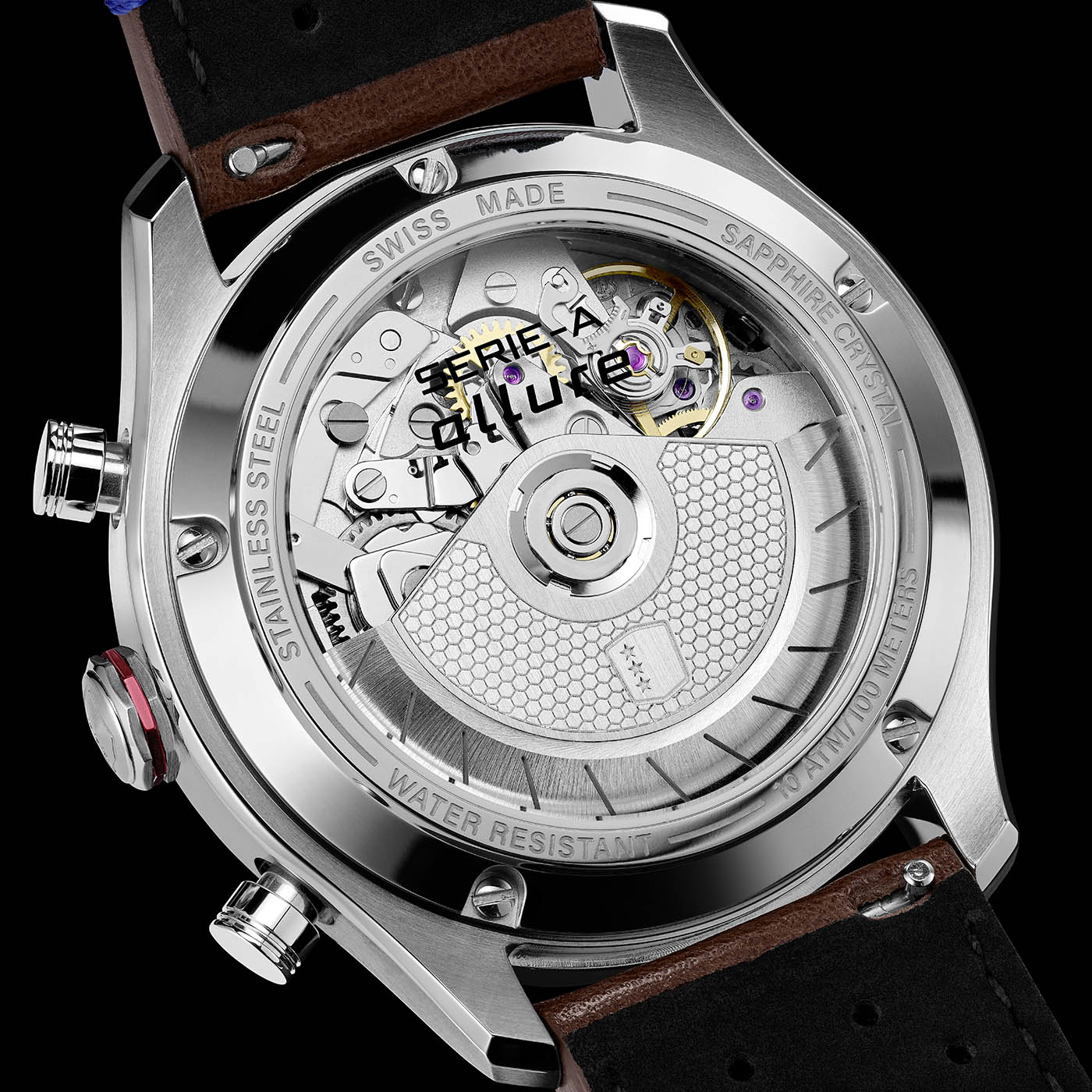 A rare Swiss-made motor
Serie-A Allure is equipped with an automatic Swiss ETA 7753 movement. This reliable caliber is known for its durability and precision.
It is rare and difficult for independent brands to procure this movement. Our watchmakers carefully prepared and personalized this one to offer you a bicompax appearance, a 6 hr date aperture and a honeycomb design on the rotor that is similar to the dial.
Limited Edition
, so this is the perfect opportunity to gift yourself a (practically) custom watch!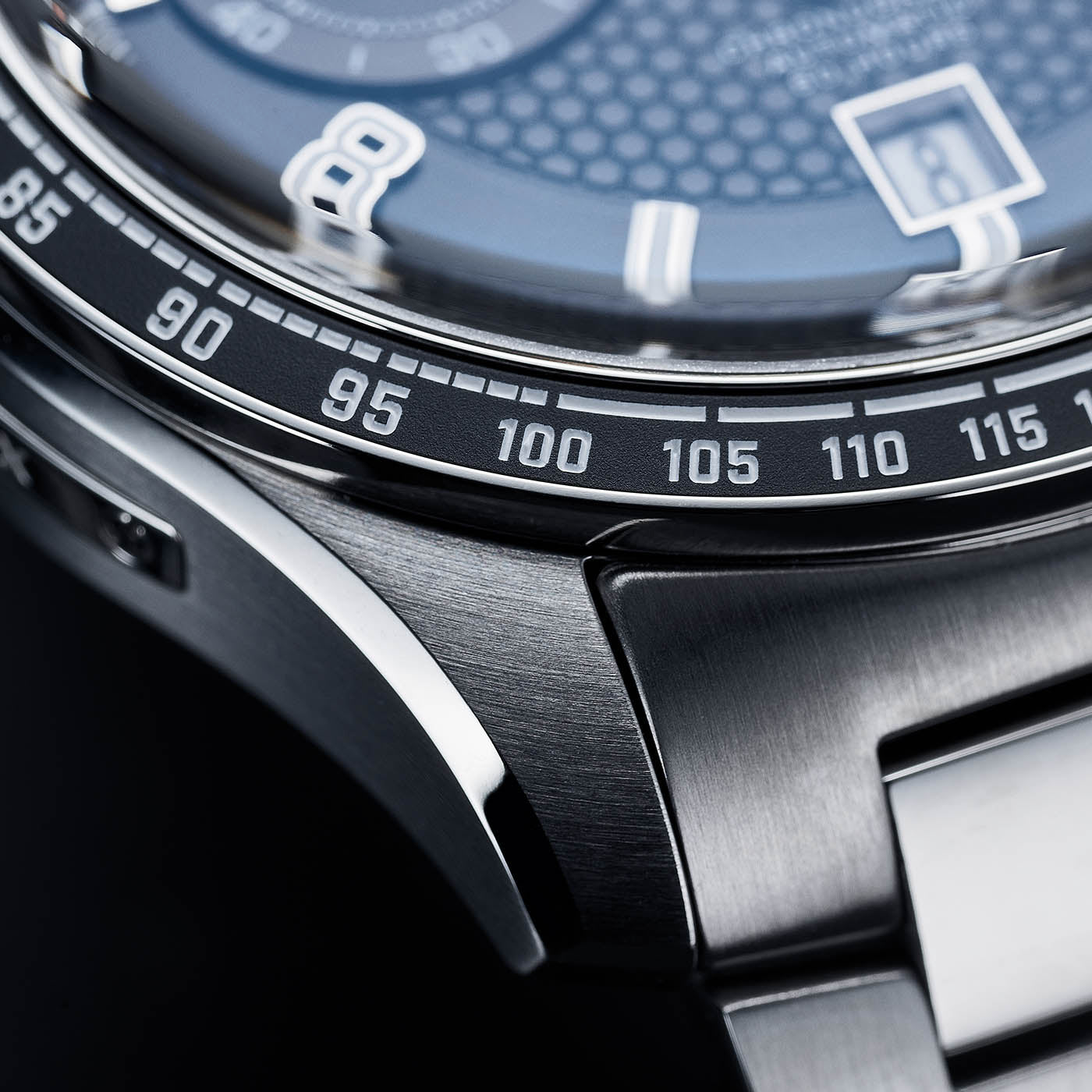 Materials that can withstand anything
The Serie-A Allure is designed to withstand everything you put it through, with a
316L stainless steel
case with alternating polished/brushed finishes topped with a
scratch-proof sapphire glass box
, and a
bezel with highly resistant ceramic insert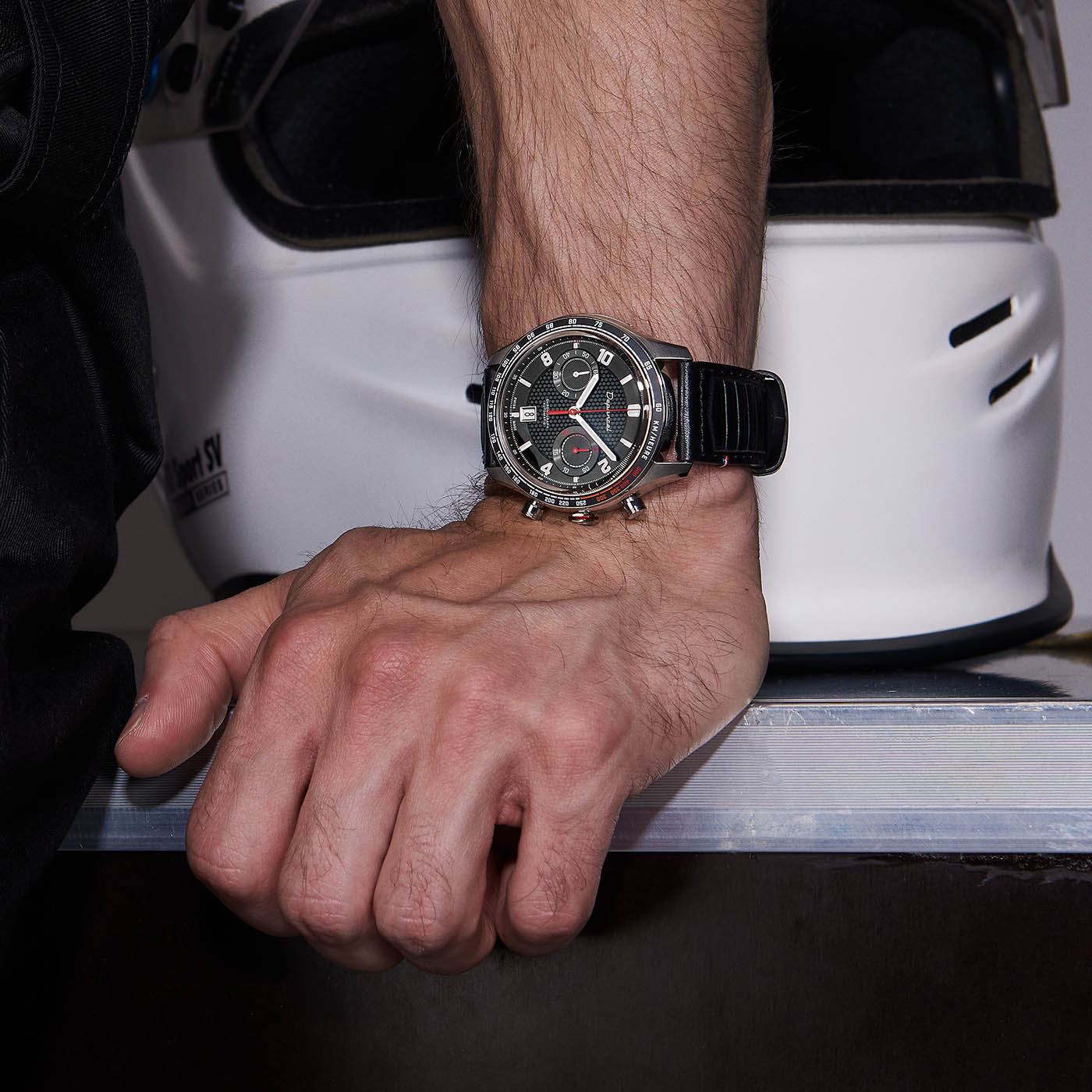 A chassis that hugs your wrist
We crafted the case's proportions to give the Serie-A Allure an ideal ergonomic fit despite the thick movement. The result
is a
43 mm diameter
and a round case with beveled horns that accentuate the curvature. This watch will
sit comfortably on your wrist in any situation
thanks to the three strap options: an
embossed leather strap inspired by automotive upholstery
, the famous perforated racing strap or the
metal H-link strap
with a clasp engraved with the brand's logo.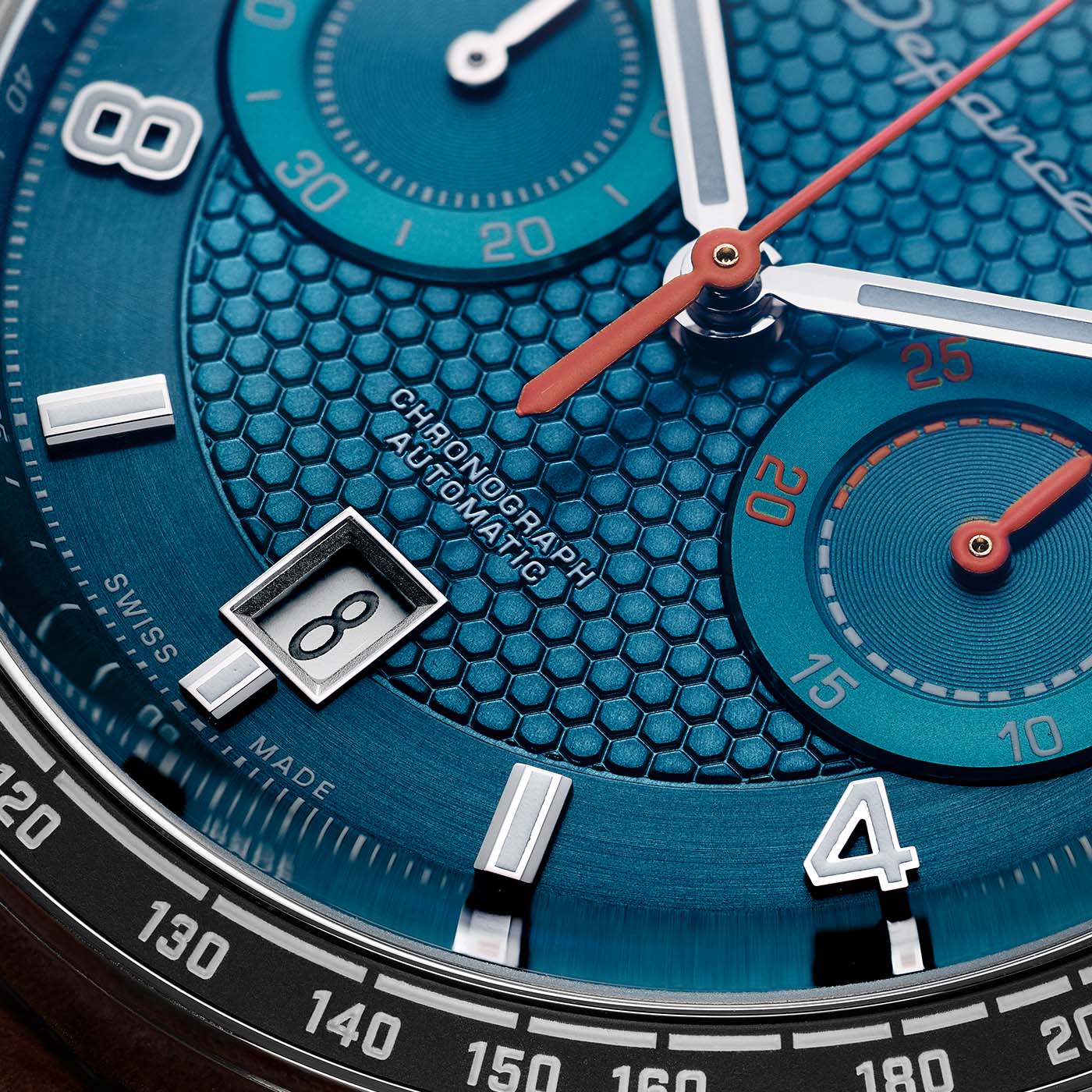 Swiss watchmaking expertise with a lifetime guarantee
Serie-A Allure is the perfect chronograph for anyone who loves fine mechanics. It features
a sporty, modern look, high-end finishes, a top-quality movement and assembly completed in Switzerland by the best watchmakers
. Like all Depancel watches, Serie-A Allure comes with a
lifetime guarantee
so it won't let you down on the first turn. Ready to hit the track?
Before wearing a mechanical or automatic watch, it is advisable to wind it manually by means of the crown (about 20 rotations of the crown in the closed position), and then to wait a few minutes before setting your watch.
To protect your mechanism from breakage, the simplest and least risky way is to set your watch to 6:30 and then make the various settings for the month, date and day.
The month setting should never be made between 22:30 and midnight on the night of the 31st and the 1st of the month.
The date setting should be done around the time of day and never between 8.30 pm and 2 am.
The daytime should never be set between 11.30 pm and 4 am.
Visit our YouTube page to discover our tutorials for setting up and using your Depancel: YouTube - Depancel
Notre garantie couvre tous les défauts de fabrication apparaissant pendant un usage normal, comme décrit dans les conditions suivantes. Depancel remplacera gratuitement tous les composants défectueux dus à une erreur de fabrication constatée par nos services techniques.
La garantie n'est pas applicable dans les cas suivants :
1. Le vol, la perte, les cas de force majeure ou les conséquences de catastrophes naturelles.
2. L'usure et le vieillissement normaux de la montre (par exemple : verre rayé, altération de la couleur et/ou du matériau des bracelets et chaînes non métalliques, comme le cuir, le textile ou le caoutchouc, décollement des métaux plaqués, etc).
3. Tous les types de dommages sur toute ou une partie de la montre résultant d'une mauvaise manipulation ou d'un mauvais usage, d'un manque d'entretien, d'une négligence, d'un accident (chute éraflure, écrasement, verre brisé, etc.), d'une utilisation incorrecte de la montre ou du non-respect du mode d'emploi fourni par Depancel.
4.Tous les types de dommages indirectement liés ou consécutifs à l'usure normale de la montre, comme par exemple le non-fonctionnement, les défauts ou les imprécisions de la montre Depancel.
La garantie est seulement valable pour le premier propriétaire de la montre. En cas d'achat d'une Depancel d'occasion, la garantie ne sera pas applicable.
For this service, we use Alma in France and Splitit, specialised in payment in 4 times.
You'll be able to select your chosen number of monthly payments when you checkout. Your purchase is split into equal monthly payments.
You will then have to accept the terms of use and validate your order by clicking on "Pay".
To date, the Alma solution is available to customers with a bank card issued in France - whether it is a "classic" or a business card - and a French mobile phone line.
For security reasons and to fight against fraud, all transactions made with Alma are systematically verified via the 3D Secure protocol, managed by the customer's bank. This verification consists in sending a confirmation SMS, or a push notification in the customer's banking application, in order to validate that the customer is the originator of the transaction.
If you are unsuccessful in your attempt to make a payment or have difficulty in meeting a deadline, please fill a request at https://support.splitit.com/hc/en-us/requests/new.
If you ever lose or change your card you can contact Alma, our payment provider, at paiement@getalma.eu, they will send you a link to make the change and it's the same if you just want to change your account.
More infos here: https://support.getalma.eu/hc/fr/categories/360001414839-Consommateur