You recently pre-ordered a Serie-A Allure, the very first, limited edition chronograph from Depancel. And since quality takes time, it will be six months before you can put this magnificent timepiece on your wrist.
So, what happens during these months?
Step 1: Making the movement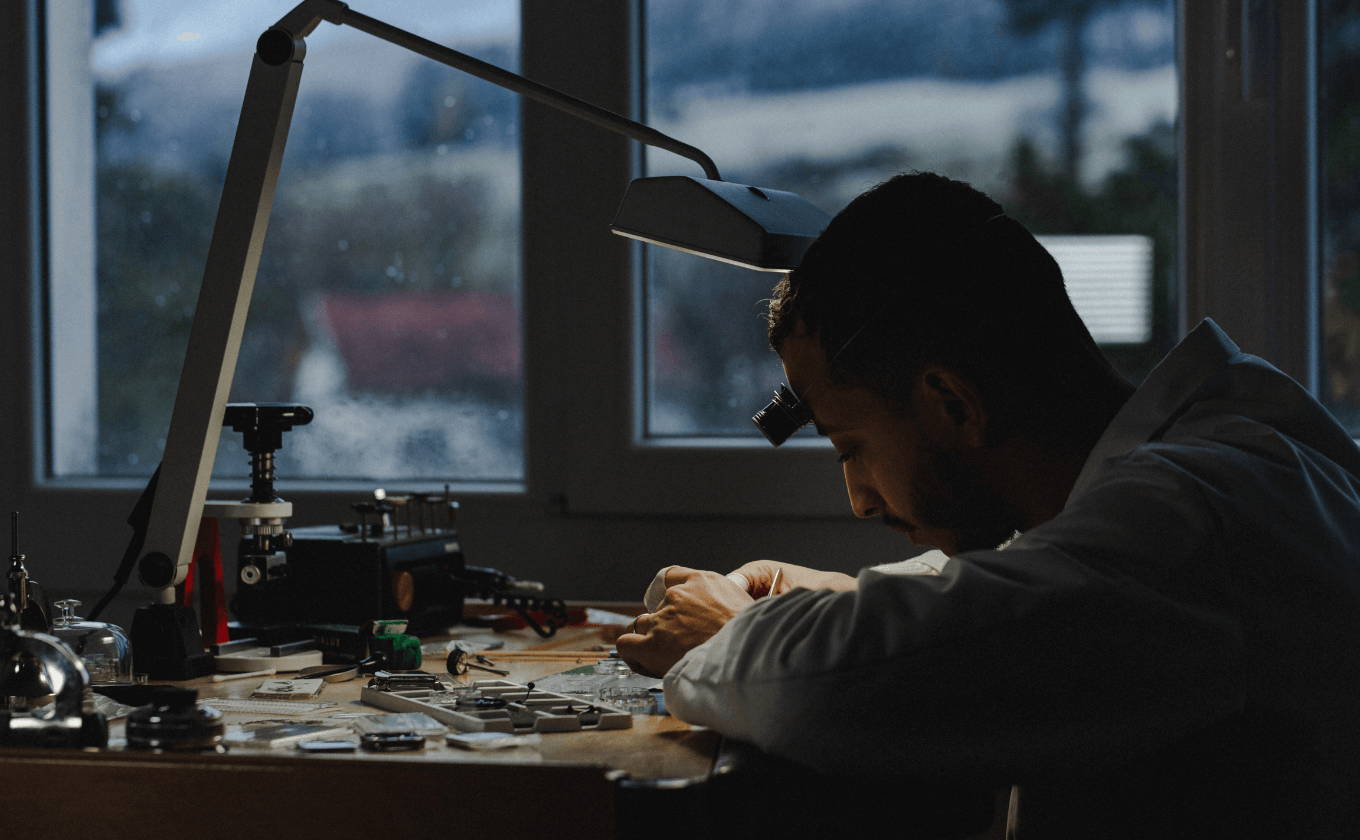 Your Serie-A Allure is equipped with an automatic Swiss ETA 7753 movement. This reliable caliber is known for its durability and precision. Our watchmakers will personalize it with the utmost care to create a bicompax style.
Since the chronograph is a complication, making the movement requires even more patience and meticulous work. While a simple mechanical movement has 130 parts on average, a chronograph movement requires around a hundred additional components. This one has nearly 240.
Detailed look at the movement's visible parts
The transparent caseback allows you to admire some of the movement. Let's take a look at what you're seeing.
1 - The rotor recharges the watch as you move your wrist. This one is decorated with a honeycomb pattern. Our watchmakers make this pattern with a guillochage technique using CNC machines like those used for engraving. The peripheral part of the rotor is also laser engraved to look like a disc brake.
2 - The cam starts and resets the chronograph mechanism.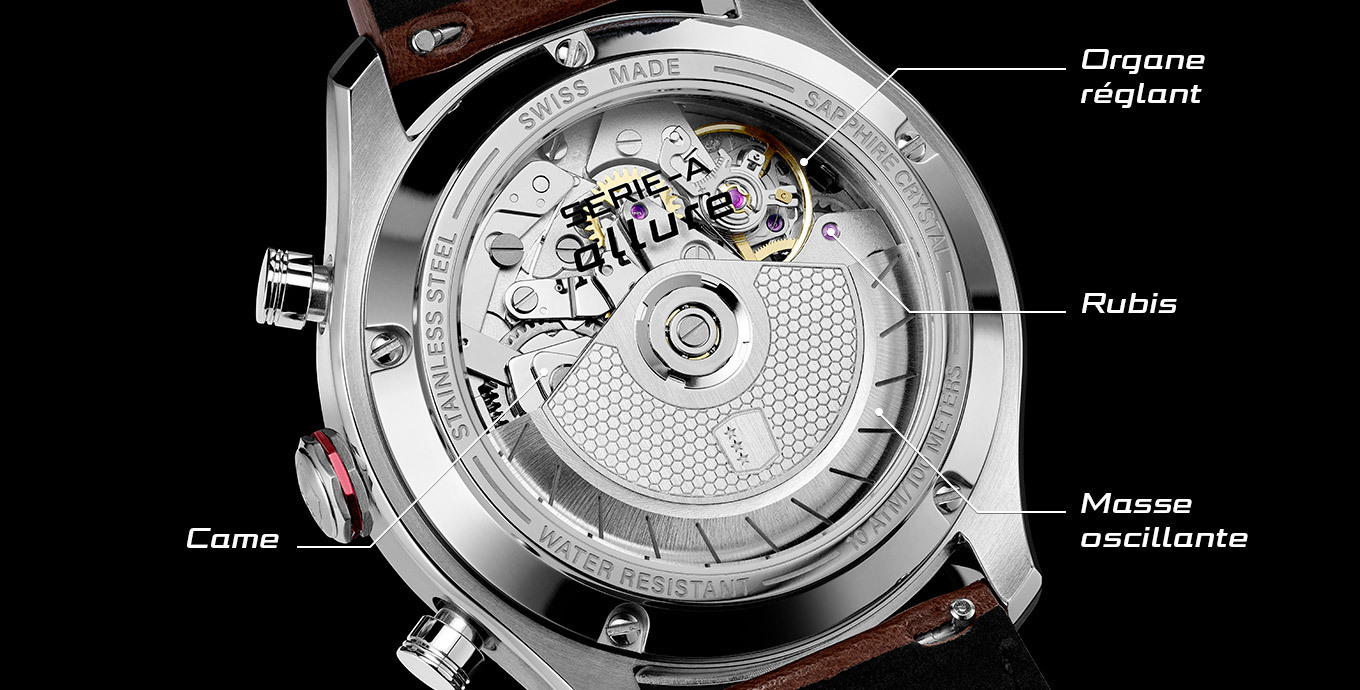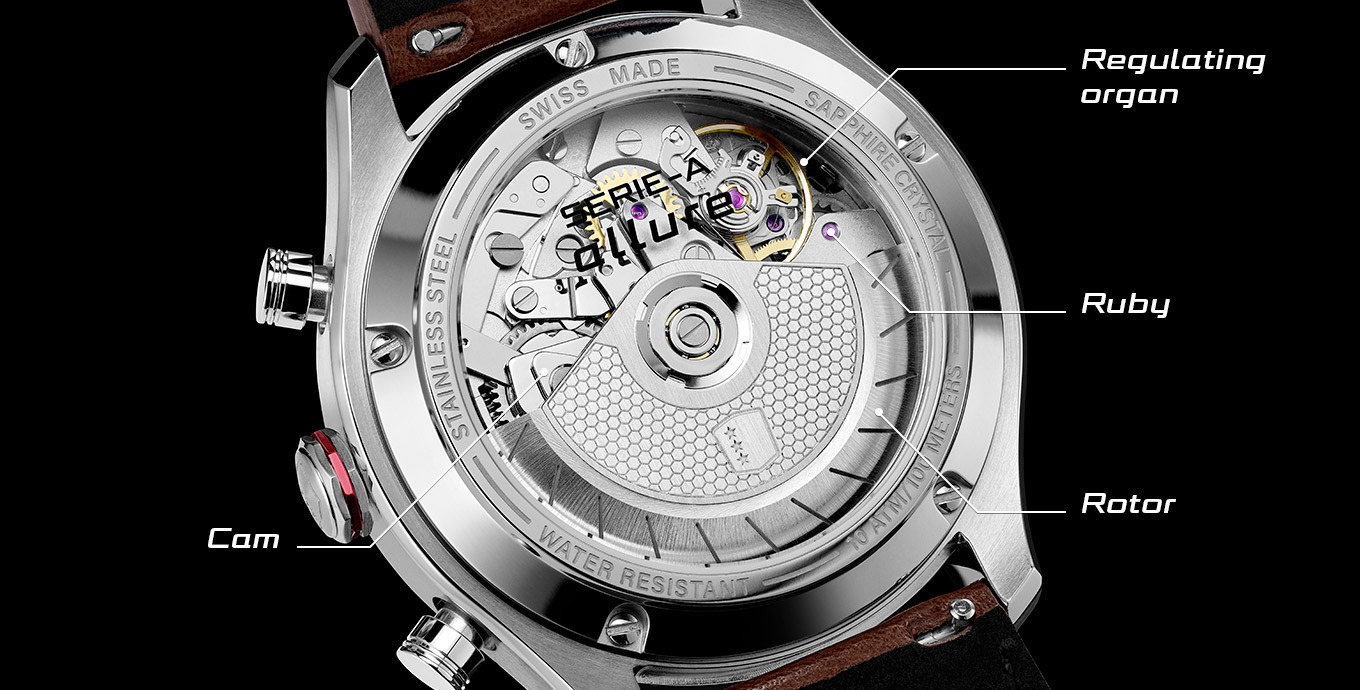 3 - L'organe réglant, ou balancier spiral est le véritable cœur de la montre, il régule la marche du temps grâce à ses oscillations et est responsable de la précision de la montre. La fréquence est le nombre d'oscillations (1 va-et-vient du balancier) en 1 seconde elle s'exprime en hertz ou en alternances par heure.
Une fréquence de 4 Hertz équivaut à 28 800 alternances/ heure, ce qui est le cas de votre chronographe.
4 - The ruby eliminate friction. Without a ruby, the metal on metal friction would damage the watch motor over time.
The Serie-A Allure has an automatic mechanical motor, which means YOU are the energy source! After winding your watch with the crown, your wrist movements keep the motor running. That's why if you don't wear the watch for several days, it may stop running and you will need to wind it. The Serie-A Allure's power reserve is around 48 hours, so the precision may be slightly lower after this time. Not to worry: just wind the watch again.
Step 2: Designing the dial
After preparing the motor, the next step is designing the dial, the face of your watch. The dial is made in several stages and there are nearly endless opportunities for creativity with materials, finishes and colors.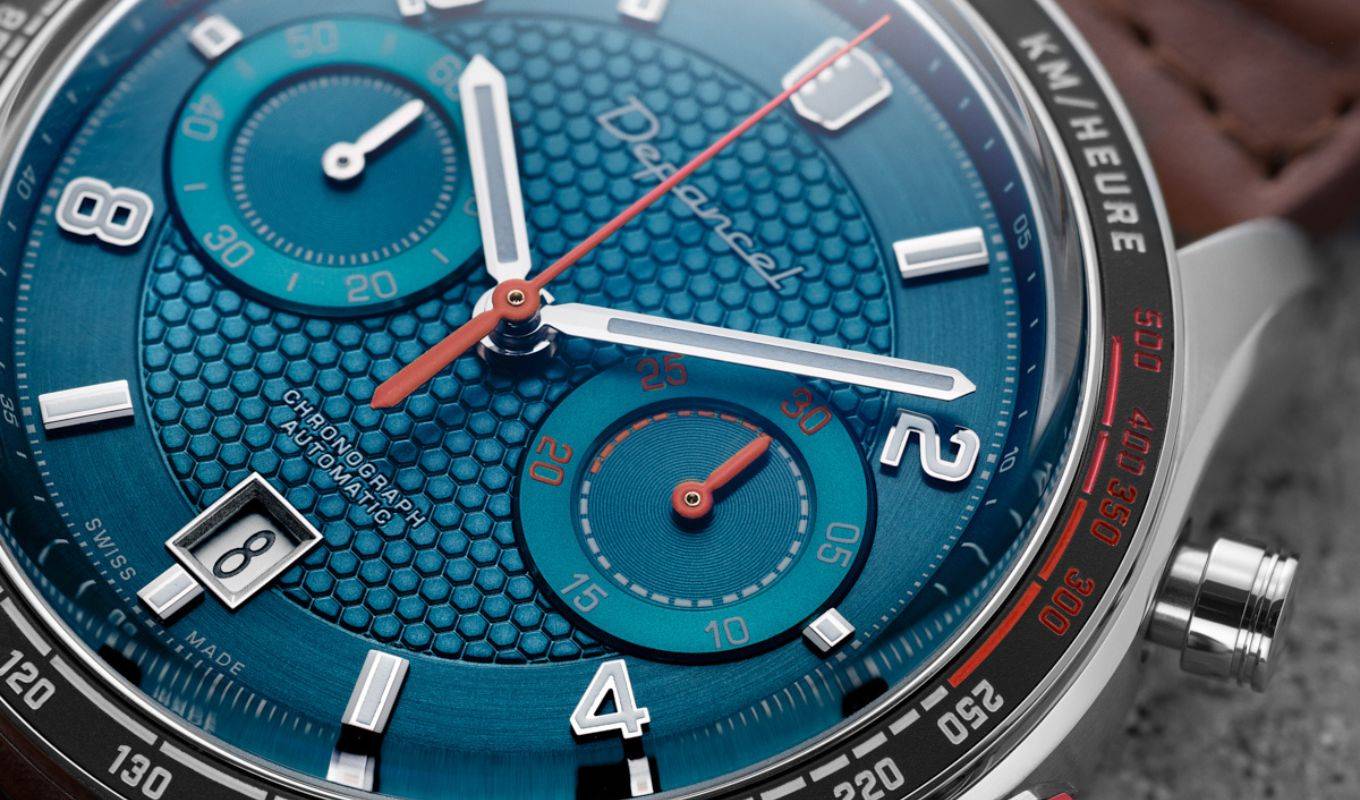 The dial's caseback is usually made with extremely precise machining equipment. Then a dial-maker takes over to finish the work manually. They create the apertures through which indications like the date can be seen and glue on or assemble the dial's various decorations. This is an extremely meticulous profession that has existed for several centuries.
Each detail requires a specific technique!
Your Serie-A Allure dial features several finishes: a honeycomb pattern in the center that echoes a grille, a circular satin surface under the hour markers, and two small sunray counters. Let's look at the various techniques used to create these finishes.
1 - Stamping creates the honeycomb pattern. This is the same guillochage technique used to decorate the rotor that we described in our previous article.
2 - Circular satin finishing (or brushing) on the surface under the hour markers leaves a set of perfectly parallel micro-etches that create an elegant, delicate light reflection.
3- Lacquering creates your dial's color! Getting the perfect color is a complex step that sometimes requires adjustments. Lacquer is applied in a special booth so that dust doesn't stick to the dial.
4 - The sunray design around the small counters is made from lines that spread out from a single point, which creates a shine effect.
5 - Super-LumiNova (SLN) is applied by hand! The Super-LumiNova powder is mixed with adhesive in a pneumatic pen. The watchmaker then forces air through the pen using a pedal, spraying the mixture onto the hands, hour markers/numbers and logo.
Detailed look at counters and hands
Once the right color and designs have been applied, it's time to add the counters and hands.
Counters are meticulously glued to the dial and the hands are slid onto their respective barrels, linked to the movement and the chronograph complication. There are a thousand hand shapes (only a slight exaggeration) and we chose sword hands for the Serie-A Allure. This shape is perfect for sporty yet elegant watches.
A watch case needs to be strong to adequately protect the movement. And it should also be elegant to enhance the watch's style.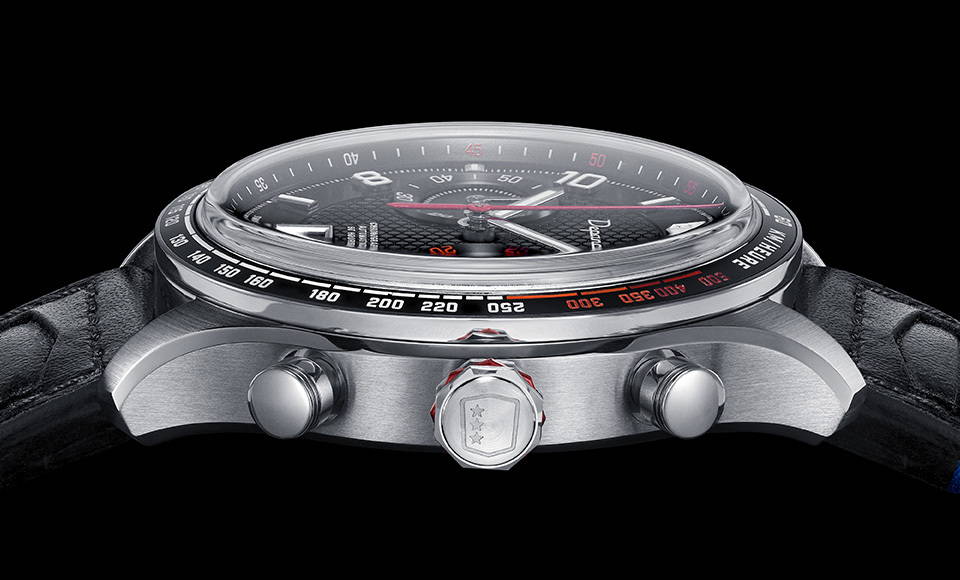 With this in mind, we designed your Serie-A Allure's case to withstand everything you put it through on a daily basis. It's made from 316L stainless steel—the "L" stands for low carbon. This kind of steel only contains 0.02% carbon, compared to 0.05% for standard 316 steel. The lower level of carbon in this alloy makes it easy to work with while still providing corrosion resistance. This is a very strong, hypoallergenic material that offers a good value for the money. Of course, we also paid attention to the design: 316L stainless steel doesn't rust or tarnish so the material keeps its shine.
In addition to the materials used, a watch's value comes from the quality of finishes added to its various elements. Various finishes can be used to accent the case. Your Serie-A Allure case has alternating polished and brushed finishes.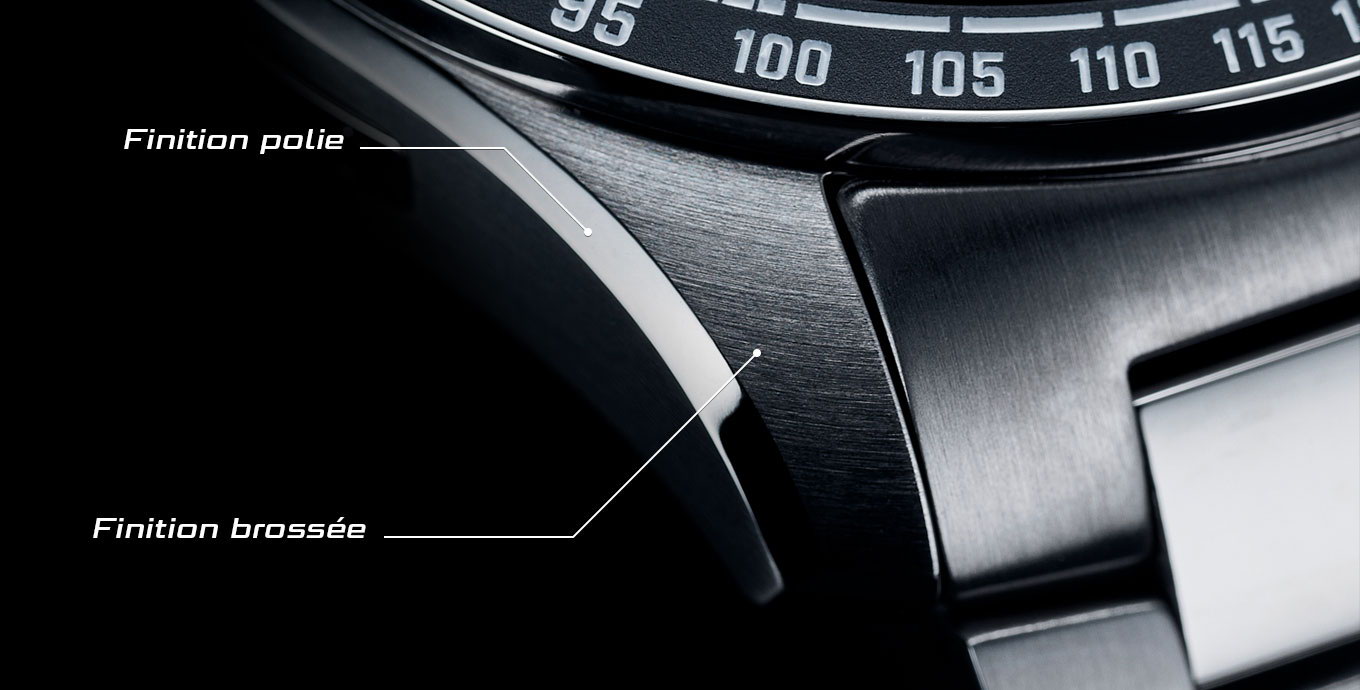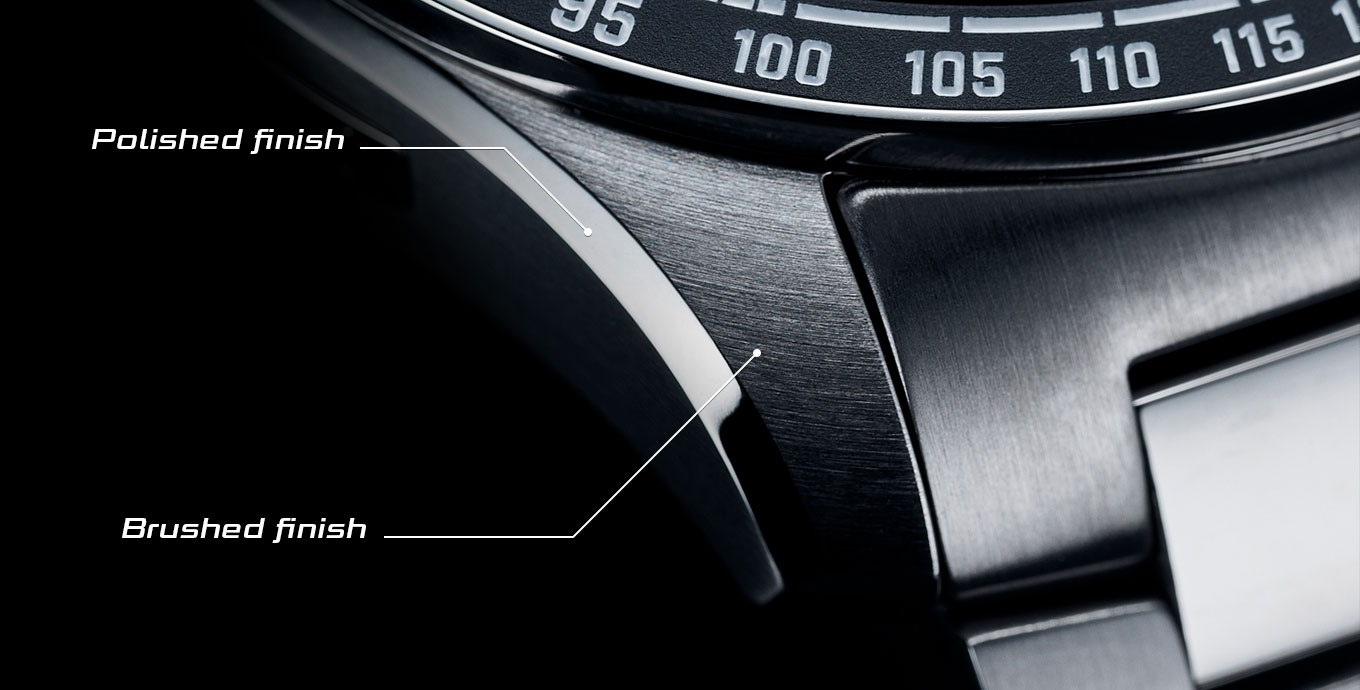 1- Polishing is done by hand, and it can take several hours to complete each case. This is a very difficult, meticulous technique where artisans use discs coated with an abrasive material to create a smooth yet refined surface.
2- Brushing consists of adding extremely thin parallel lines to the case's surface by hand. This gives it a soft finish that contrasts with the brighter polished surfaces.
When we talk about ceramics in watchmaking, we're dealing with something quite different from the material used in dishes! This is a technical ceramic that's stainless and abrasion- and scratch-resistant.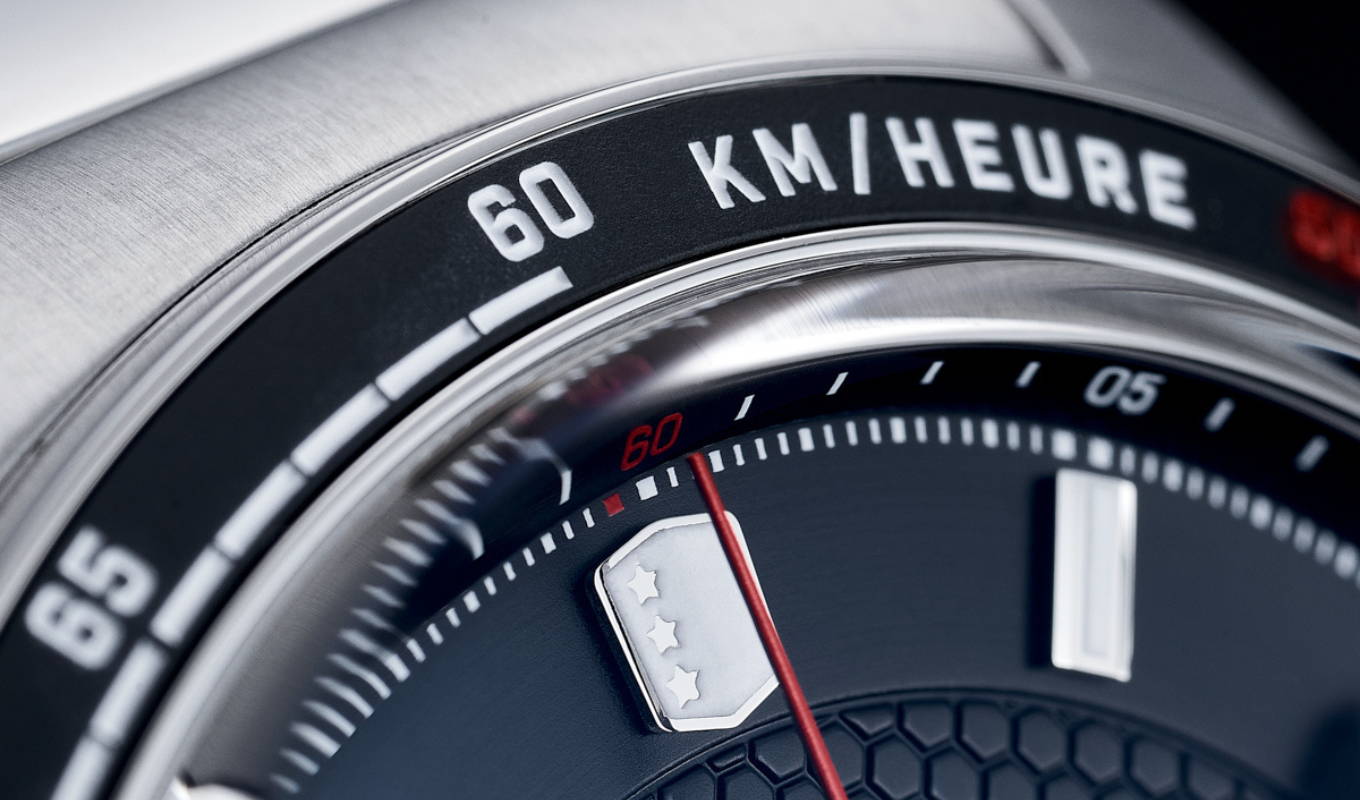 This ultra-robust material is three to four times stronger than steel. Its hardness is a huge advantage for the quality of your watch. But it does make manufacturing the case a bit of a challenge because it's relatively difficult to machine. The ceramic doesn't react well to machine tool processes, so we have to follow a very precise molding and firing process to make the bezel for your Serie-A Allure.
A watch caseback can be screwed in, pressed on or clipped in. Your Serie-A Allure has a screw-in caseback. This method makes your watch water resistant to a certain depth. If any maintenance is done on this type of caseback, it's extremely important to be very careful when screwing it back onto the watch so that it doesn't lose its water resistance.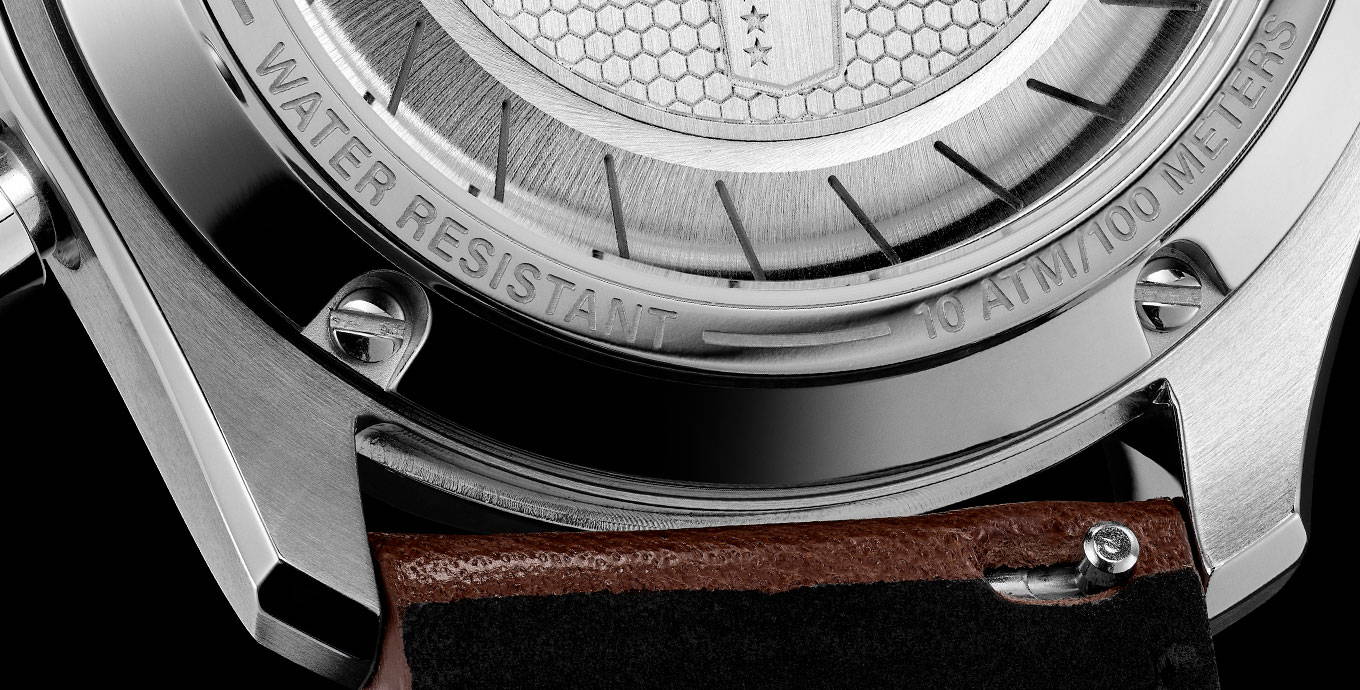 Remember that while your watch is water resistant to 100 m/10 ATM, this doesn't mean you can wear it while diving to this depth! Instead, you can theoretically wear it while washing dishes, showering, taking a bath or swimming.
However, since this is a high-quality watch, we think the best way to take care of it is to keep it away from water.
Step 4: Putting everything together

Now that the movement, dial and case have been made, it's time to put everything together. Our watchmakers assemble each component by hand and with the utmost care.
This is another step that requires a great deal of precision and meticulous work. Our workspaces have to be absolutely spotless because if even a speck of dust gets into a component, we'd have to take the whole thing apart again.
Let's get started! Our watchmakers attach the dial to the movement's plate and slide on the hands. This allows them to accurately position the hands and get them at the right height. If they're too close to the dial, they'll touch the hour markers. Too far away and they'll touch the crystal.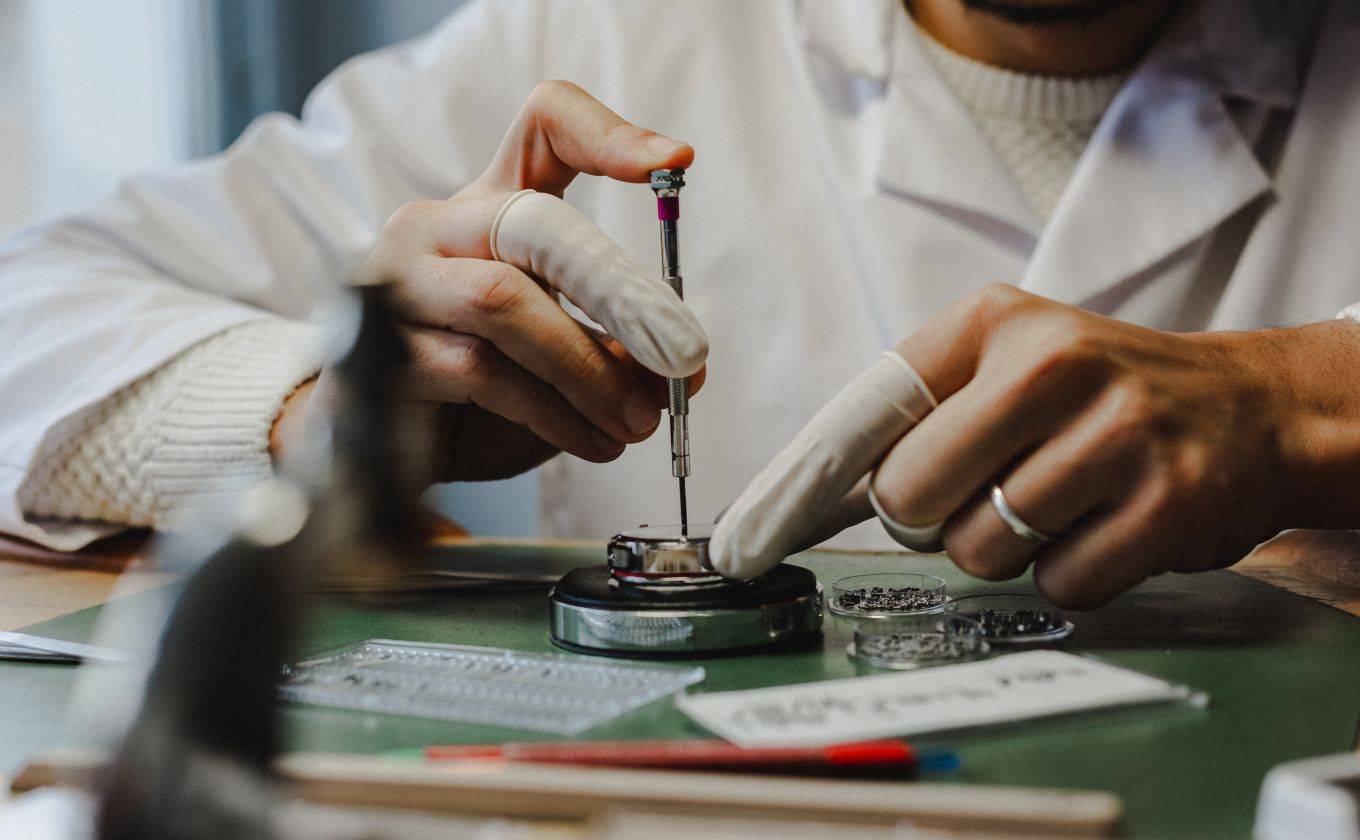 After that, our artisans put the movement in the case and fix it to the body using screws and bridles before lubricating the seals and mechanical parts. That's right just like your car's engine, the movement in your Serie-A Allure needs oil so that the moving parts aren't damaged by tribology. What's tribology? It's the science of wear, friction and lubrication.
Last but not least, we install the crown and tightly screw on the caseback before the water resistance tests. Our watchmakers add your chosen bracelet to the watch case during assembly, but, just as for all other Depancel watches, you're free to change your Serie-A Allure's bracelet yourself.
It's time to move on to quality control! Your Serie-A Allure is closer to your wrist than ever… In this final step, our watchmakers ensure that all the different components of the watch meet our strict quality standards.
Let's take a closer look at the process!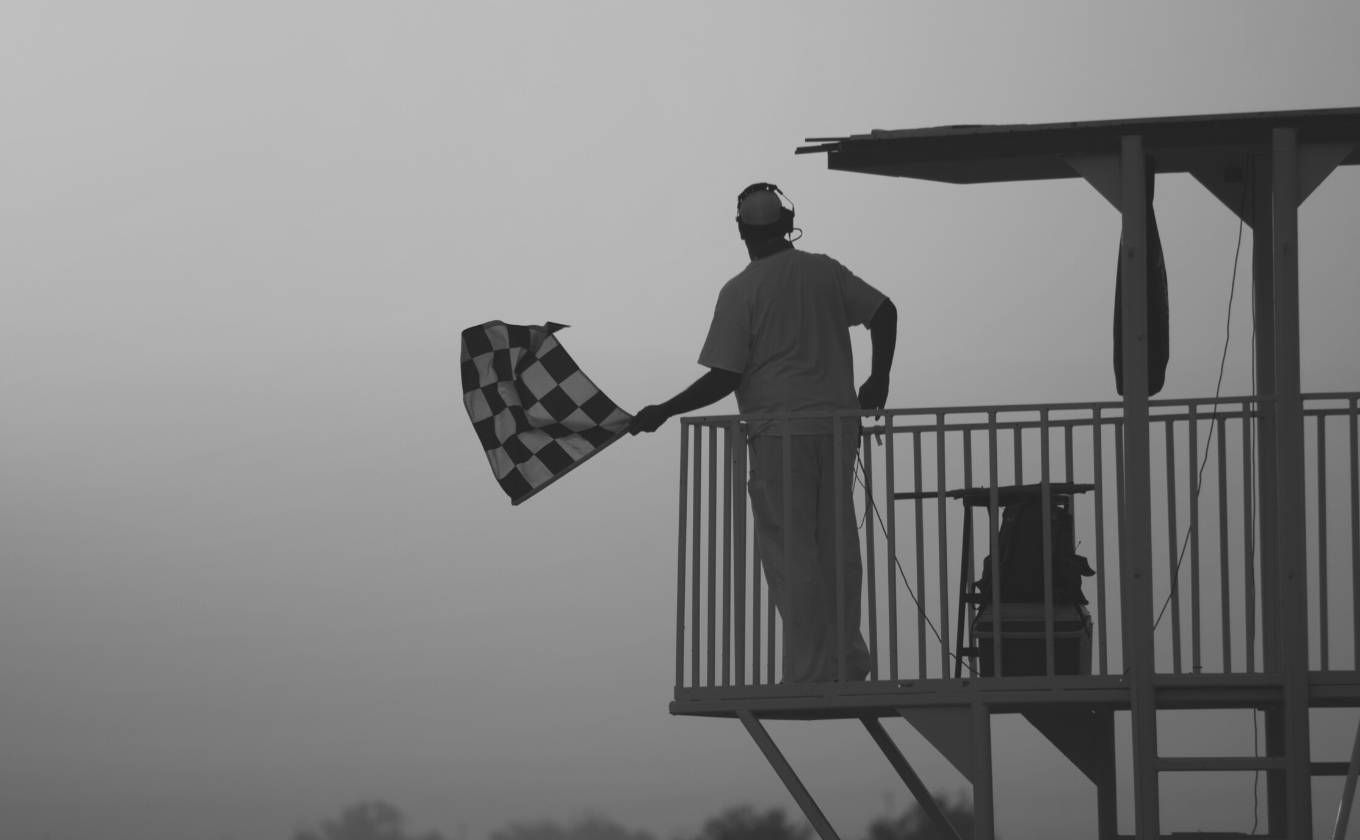 Our watchmakers' quality tests:
To ensure that your watch is water resistant, our watchmakers actually use air instead of water. By using a special device to test your Serie-A Allure with a jet of air, they avoid the risk of damaging the watch in case the water resistance isn't working properly.
Next, our watchmakers use a machine that imitates the movement of a person's wrist to make sure that all your watch's features are working properly, from hand movement and alignment to correct operation of the various counters and rotation of the rotor.
As for the leather strap, it's tested and inspected by our leather artisans in France, and goes through the standard friction and twisting tests for wristwatch applications. Even so, bear in mind that leather is a delicate material that you should always take good care of (see the FAQ and instruction manual).
Finally, our watchmakers go over every surface of the case, dial and crystal in painstaking detail.
Placing the watch in its case:
Once the quality control stage is complete and your Serie-A Allure has passed with flying colors, it is placed in its case along with its two user guides (Quick Start and setup guide).
Your package is then handed off to DHL, who will keep you up to date on when your new watch will be delivered. You decide whether you prefer to receive it at home or at a pickup point – whichever is most convenient for you.
The 5 most important rules for taking great care of your watch
1 - Don't take it swimming!
As mentioned earlier, your Serie-A Allure is designed and tested to stand up to very brief accidental exposure to water, but it's not meant to be worn underwater. The best way to keep it in top condition is to avoid getting it wet or submerging it in water. Most importantly, remember to never use the timer buttons underwater to prevent any liquid from getting inside the watch.
2 - Avoid magnetic fields
Avoid placing your watch on a tablet, computer, speaker, cell phone or refrigerator. These devices generate powerful magnetic fields that may affect the precision of your watch's operation.
3 - Avoid jolts and impacts
Self-winding watches don't like sudden impacts. If you play sports or if your work involves lots of abrupt movements, we recommend setting your Serie-A Allure aside to avoid subjecting it to any jolts or impacts that may damage the movement.
4 - Wear it with pride every day
Rule 4 may conflict a bit with rule 3, but it's every bit as important. A self-winding watch shouldn't be left in its case for too long, no matter how much you treasure it. It's important to wear it regularly, or at least to wind it by hand every three months.
5 - Wind it correctly
When winding your watch by hand, it's important to take it off your wrist to avoid bending the stem attached to the crown. And of course, you should never use excessive force on the crown.
Here's how to set your watch correctly!
To protect the internal mechanism from damage, the simplest and least risky approach is to set your watch to 6:30 and then set the date. The date should never be adjusted between 8:30 p.m. and 2:00 a.m.. Once you've finished setting the time and date, be sure to press the crown in against the case after winding to prevent any water or moisture from getting inside the case.
And finally, remember that like any fine mechanical device, your self-winding watch should be inspected by a certified professional every 3 to 5 years. Needless to say, the Depancel team will be happy to assist you when the time comes!
---